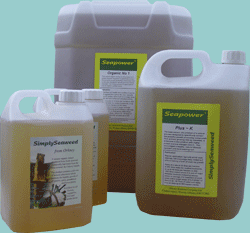 Commercial Product [Seapower] Sales
Commercial products are available in 5, 20 (25) and 1000 liter volumes. The 25-liter volume is mainly for existing customers as we are phasing out this size in line with evolving handling regulations. Specific product prices are not given on the website because these are influenced by order size and delivery arrangements. On receipt of your Enquiry, our Sales personnel will contact you by telephone to discuss our products and sales/ delivery arrangements for your area.
Orders may be placed through our distributors where they cover your area of the country (see regions covered below).
* This form gives you the opportunity to seek further information about our company and its product range, without placing any commitment to buy. Also, where appropriate our sales staff may relay technical queries to our Product Development team since we are very keen to understand our customer needs and problems and build such knowledge into future products.
Regional Commercial Distributors/Agents
Arrangements have been made with a number of distributors in England and Wales:
Grass Roots continues to have an exclusive arrangement for amenity sales covering London, the Home Counties and the South-East.
We have a number of other distributors covering the amenity sector. Yorkshire Horticultural Supplies is covering from the Newcastle area southwards to Cambridgeshire, Norfolk, and Suffolk; Ground Force Leisure is covering from Birmingham down to Worcestershire and West Warwickshire, and Richard Blizzard (Turf & Crop Supplies) is covering South Wales and the South West of England.
In the agricultural / grower sector, Peter Smeaton of P.S. Agriculture is acting as our agent in Leicestershire, Lincolnshire, Staffordshire, and South Yorkshire.
For establishing commercial accounts, and other technical inquiries, contacts are provided on our general 'Contacts' page.
Retail Product [ SimplySeaweed] Sales
Our core product range has been developed primarily as a growth promoter/root stimulant for use by commercial growers, golf course managers, and sports groundsmen. However, the core natural product, under the retail name SimplySeaweed, is currently available (in 2-liter units). Those with the larger garden may wish to consider the smaller commercial packs, which start at 5 liters (see above).