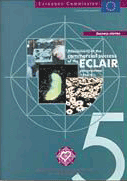 The ECLAIR program (European Collaborative Linkage of Agriculture and Industry through Research) was the first multi-annual program for biotechnology-based agro-industrial research and technological development, funded by the European Commission. This activity was established by Council Decision 89/160/EEC, within the Second RTD Framework Programme and ran from 1988 to 1993.
The program aimed to select projects that would encourage the production and testing of new products derived from agricultural raw materials, as well as the development of new inputs for agriculture, such as fertilizers, pesticides, vaccines, inoculants and growth promoters. The 42 shared-cost projects that were funded, receiving around 65 MECU, were pre-competitive in nature and further effort would be required to commercialize the results from ECLAIR.
The Seapower/SimplySeaweed range of growth promoter products developed from a specific project within the ÉCLAIR program. This summary contains excerpts from an independent review of the program results, undertaken on behalf of the European Commission.
AGRE-0022: Development of enhanced quality liquid fertilizers based on naturally occurring seaweeds
Science Background to Project
There is a growing demand for alternatives to chemical fertilizers. Seaweed has traditionally been used as a natural fertilizer and can reduce the run-off of nitrate and phosphate from soil associated with a soluble fertilizer. The use of seaweed extracts as foliar sprays has been shown to be beneficial for a wide range of crops. Such extracts contain trace elements and compounds that stimulate plant growth, increasing yield and quality, as well as giving better seed germination and root development. At the time this project was initiated, several seaweed extracts were being marketed, but these gave varying results that did not always support the claims of their manufacturers.
Objectives
Hence, this project set out to establish the potential value of seaweed-based products in nutrient-poor soils through the development of quality-controlled products. These would then be tested on a range of crops under various conditions by independent experienced growers. Heriot-Watt University's Institute of Offshore Engineering (IOE, Director Professor Cliff Johnston) and the Agricultural University at Wageningen (WAU) entered into a contract, with Associate Contractors the government agricultural research station TEAGASC in Ireland and the Orkney Water Test Centre Ltd (OWTC), a Heriot-Watt University-owned company. OWTC Ltd, the participant with manufacturing capability, was responsible for product development, with IOE responsible for project management and both TEAGASC and WAU responsible for field trials. Further support, from Farm Future, was sub-contracted by IOE to coordinate organic grower trials in the UK.
At the end of the ECLAIR project
Before the main ECLAIR project had been completed additional work was initiated, aimed at widening the potential market for a product range based on the foreground information from the project. It was quickly learned in initial commercial trials that conventional agriculture, although (theoretically) a potentially large market, was going to be slow to penetrate. Although the organic market was very interested in the product and pleased with trials through Farm Future, its buying power was relatively low and the market diffuse.
At the same time as the formal project was finishing, Heriot-Watt University made major organization changes (including selling OWTC Ltd) which resulted in it dropping interests in such projects. The organizations involved in trials, being primarily research organizations, declared no interest in commercial development but encouraged others to proceed with product commercialization.
Following the main, organic agricultural ECLAIR trials, the program concentrated on developing products for the horticultural market. The coordinator Professor Cliff Johnston (having retired from Heriot-Watt University) continued assessment of the horticultural market, through his consultancy Johnston Environmental Ltd, (renamed Digitata Ltd in 2004). He widened interests further to cover the amenity/turf sector where considerable interest in the product was developing. Particular attention focused on the optimization of selected growth-promoting properties, increase in shelf-life, compatibility with other products, and definition of support services required in different market sectors.
The Orkney Seaweed Company Ltd (Orkney, UK) was established, and with assistance from Orkney Enterprise and Orkney Islands Council, manufacture moved to the northern Orkney isle of Westray, to ensure supply of freshly harvested weed. The company also established a mainland-based distribution unit in central Scotland.
Several reports (some confidential) were produced from the program, with a major technical summary available generally. A table is included on this website, to give a broad picture of summary results from organic crop trials.