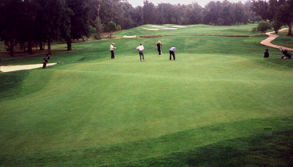 The base natural extract, which is at the same strength in all our products, is the product of a unique process designed to specifically extract the powerful growth promoting compounds from actively growing Orkney seaweed, enhanced with natural seaweed carbohydrates. This golden liquid promotes enhanced:
---
root development and growth
tillering of turf
uptake of nutrients and other applied products by roots and leaves
chlorophyll production, thence greening
natural defense against disease and pests
resistance to mechanical wear and stress.
The additional carbohydrates also stimulate the development of natural soil microbial activity, without placing excessive demands on soil oxygen levels.
In addition to the base organic product, we have produced a range of enhanced formulations to meet specific plant requirements throughout the season; largely reflecting the needs sought by customers over the recent years of product development.
Amenity/turf products for the next season
Seapower Organic No1(Turf)
Our base natural seaweed extract with powerful growth promoter properties.
Excellent for use on turf throughout the year.
Seapower Plus-N
Full strength seaweed extract boosted with readily available nitrogen for early season growth
Seapower Plus-K
Full strength seaweed extract with added potash for autumn/late season use.
Seapower Special-NK
A popular product – combining full strength seaweed extract with readily available nitrogen and potash.
Special Formulations
With suitable volume sales, we may be able to produce formulations to specific client requirements.