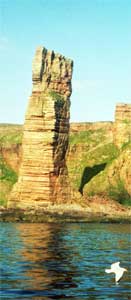 Product and Service Provision
Natural seaweed products from Orkney
Orkney Seaweed Company manufactures a range of products based on liquid extraction from freshly harvested seaweed (tangle) from the unpolluted waters off Orkney in Scotland. The liquid seaweed product has powerful plant growth promoting properties for use in both conventional and organic horticulture and agriculture.
For centuries the rich green Isles of Orkney have benefited from using seaweed on the land. Now these new seaweed products convey this benefit to all growers – from large-scale commercial growers, greenkeepers and groundsmen to the city patio gardener.
The base liquid seaweed product is a true organic product, made without the use of chemicals from fresh seaweed. Liquid seaweed products are available for use on sports turf, and by the commercial grower as well as in leisure gardening.
Our liquid seaweed products bring a proven scientific dimension to the use of natural seaweed growth promoters in conventional and organic agriculture and horticulture.
Contact us now if you have an interest in the use of natural seaweed products, or want to learn more about our Company and products.